How To Write An Argumentative Essay To Get An A
Professors don't grade papers randomly. They have a list of guidelines for every type of essay, and the closer your writing is to the ideal, the higher grade you will receive. Now all you need is to find out the criteria of the perfect argumentative essay. We'll share them with you, so that next time your instructor is 100% satisfied and you get an A+ for your efforts.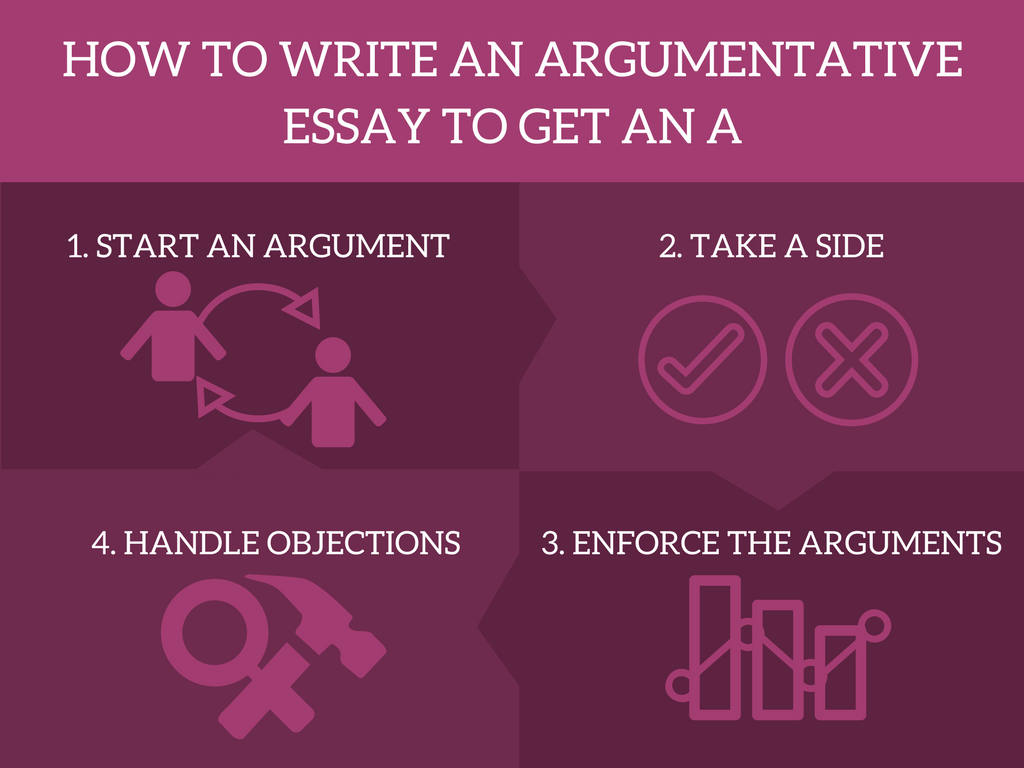 Start An Argument
If you don't know how to write an argumentative essay, start an argument. Select a highly debatable subject and think of the ways to develop it into a full paper. Of course, the more controversial issue you choose, the more convincing your arguments should be. Still, the topic is the first thing your instructor assesses when grading, so don't limit yourself to boring subjects. Be creative!
The argumentative essay format calls for passionate discussion and solid proof, so don't turn it into a narrative or reflective paper. If you want to discuss politics, look up the hottest trends that rile up flame wars online. If you have to cover Art, question its value and prices. Maybe, you will be able to convince your instructor that museum entry tickets should be free.
And if you are stuck choosing among dozens of argumentative essay topics, use our list for inspiration.
Take A Side
Always keep an argumentative essay format in mind. It's not an overview or a case study of all possible solutions to a problem. Instead, it's a way to convince the readers to side with you on a specific issue. State your opinion in the argumentative essay introduction and stick with it all the way through to the conclusion. There is no room for hesitancy or doubts. Remember, you don't have to believe in what you are writing, it's just an assignment. Your professor will be especially impressed if you take a side that you don't fully support and still sound convincing.
To ensure the whole paper serves the purpose of supporting one side of the argument, create an argumentative essay outline before writing. This way you can evaluate the claims at a glance and substitute the weaker points by stronger reasoning with more evidence.
Enforce All Arguments
After you have done your research and created an argumentative essay outline, it's time to think about the most convincing way to present your case. First, review the claims you want to make in between an argumentative essay introduction and conclusion. Ask yourself these questions about every argument to determine whether it should stay or go:
How does this argument support my overall claim?
Is there enough supporting evidence to make it convincing?
Can I make this argument more potent with additional facts or numbers?
Where should I put this claim to make it most efficient?
The order of the arguments matters. According to psychologists, the most potent claims should go first and last, while the weaker claims should stay in the middle. Such order will make your writing more convincing and will impress the teacher into giving you a better grade.
Handle Objections
Never start an argumentative essay conclusion before you address and handle the opposing viewpoint. Treat this assignment as a debate. Besides supporting your claims, you need to manage your potential opponents. Here is a mini-guide on how to write an argumentative essay's refutation passage:
Think of the most influential argument your opponents could give.
Find a way to refute this claim, provide supporting evidence.
Carefully word a refutation to turn it into another point in your favor.
Handling objections is the final stage of writing a paper before you complete an argumentative essay conclusion. You can address it in passing in the last paragraph along with a short recounting of the critical arguments.
Even if you don't know a thing about how to write an argumentative essay and use our tips, you will get a high grade. Combine this knowledge with one of our good argumentative essay topics we handpicked for you, and your A is in the bag!
Still, there are times, when you can't complete the assignment on your own. Maybe, you caught the flu or had a family emergency, and the paper is due in a couple of days. If that is the case, don't hesitate to contact us. Our professional writers will gladly help you catch up to your class and save your GPA from plunging down.