It's been a hard term, with piles of writing assignments, group projects, and quizzes. But now you face the toughest challenge of all - a term paper that will determine your final grade. You've been so nervous about this project you've put it away for later a dozen times, and now you have only a couple of days before the submission deadline. And your only hope is to learn how to write a term paper in one night. That's why we are here. We'll teach you the tricks to write a praise-worthy term paper when you are short on time.


What Is Different About A Term Paper?
When your professors assign term papers, they expect a lengthy and in-depth essay on a topic you have studied in class this semester. Therefore, there are several primary features of a college term paper format:
It should explore one of the topics of the term's syllabus.
It needs to be much longer than a traditional 5-paragraph essay.
Credible sources with supporting evidence are a must.
Otherwise, the term paper outline will be similar to that of an argumentative essay or a research paper. But before we go over the structure, let's talk about term paper topics.


How To Choose A Term Paper Topic In 5 Minutes
If you have a topic assigned by your instructor, skip this section and move to the next, but if you are stuck with several options or have to think of one on your own, these tips will save you hours:
Open the class syllabus and highlight the issues you know well.
Among those select the issues you find most exciting.
Run a quick Google Scholar search to check if there are at least five recent sources by different authors on the chosen topics.
Select the subject that is familiar, interesting and easy to research from the remaining options.


Research And Create A Term Paper Outline At Once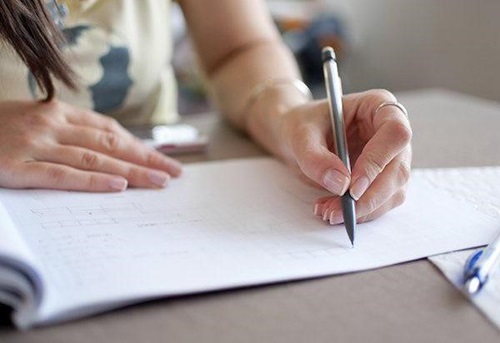 So you've spent 5 minutes on choosing the topic, now it's time to study the issue and plan an outline. Since you want to learn how to write a term paper in one night, you'll need to multi-task and squeeze these two prewriting steps into one. Here is the winning strategy to generate a term paper outline quickly:
Download your primary source: a novel, a poem, a case study or a report you need to analyze.
Download 10 secondary sources you have found during your Google Scholar or Academia.edu search.
Skim each source and copy intriguing facts, figures, and examples into a text file.
For each copied piece of data, insert reference information, including the name of the source, its author, and a page number.
When you find facts that could support one point in different sources, arrange them close together. Do not organize your notes by reference, or you will need to rearrange them later, wasting precious minutes.
Think of a claim to describe each group of notes and type these sentences as sub-headers.
Select the most unexpected data to use as a hook in a term paper introduction.
Once you complete these steps, your text file will look like a collection of notes with sub-headers. Now you need to tie them together into a powerful narrative with in-depth analysis and smooth transitions. It's not as difficult as it seems, and we'll teach you how to complete this step in no time.


How To Write A Term Paper In One Night
Every college paper possesses three basic elements: an introduction, a body, and a conclusion. However, few people can follow this structure and produce quick results. Instead, try our jigsaw writing method, when you start with what you have and know and finish with the most complicated parts. Here is the recommended order from our professional writers:
A thesis statement which is a one-sentence summary of your main claims and stance.
Topic sentences for body paragraphs comprising primary arguments.
Supporting evidence you have collected during the research stage.
Analysis of the source materials and transitions between paragraphs.
Conclusion with a repeat of the thesis statement and your final thoughts.
A hook to grab the reader's attention from the first sentence.
This writing order will help you overcome the writer's block many students suffer when they start writing a term paper introduction before the body paragraphs. If you don't experience the fear of a blank page, you can follow the traditional writing order, but we still recommend working on the hook and title last.
PRO TIP: Remember to summarize and paraphrase source material instead of filling your paper with quotes. As you have the necessary passages in one file, it will be easy to rewrite and sum them up. Use a thesaurus to find suitable synonyms or specialized software for paraphrasing big chunks of text in seconds.
The writing process itself is easy once you realize that you don't have to worry about typos and mistakes in the first draft. Set a timer and sit down to write as quickly as you can. Take short breaks every 30 or 60 minutes, but don't stop until you are done. After you have finished a conclusion for a term paper, you can have a longer break.
Once you recharge with coffee and donuts, go back to edit and proofread the term paper. First, read it and correct obvious mistakes. Delete any information that seems out of place, add new sentences if you feel some parts are difficult to understand. At this point, you can also shuffle evidence around to make the paper more logical. Only after you are satisfied with the content, can you go through the paper one last time to catch small errors and make it immaculate for submission.
College term paper format is not that different from the essays you know and love. Still, these lengthy assignments take time. Using the professional writers' tricks we have shared today, you can cram the whole writing process, from choosing the topic to writing a conclusion for a term paper into a single day. And in case you have more than one assignment you need to complete by tomorrow, contact our writers. They will help you write all papers on time and get high grades.